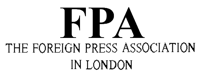 ---
The Foreign Press Association (FPA) was founded in 1888 to assist foreign correspondents with their professional activities while working in London and the United Kingdom. The FPA is the only association of its kind in the UK and has links with similar organisations around the world. It provides a unique facility for foreign correspondents to carry out their duties and meet their colleagues.
The FPA is politically independent and run by foreign journalists. It aims to support the work of the international media, provide to the foreign journalist a "home from home" in its beautiful premises in Carlton House Terrace, and facilitate contacts to British media, politics, business and culture.
For the correspondent working in London, the FPA is the place to go for news and background briefings, support, social gatherings - and to work. For those seeking contact to foreign media in the UK, the FPA offers an efficient gateway in a variety of ways.

---